Cutting-Edge Waterproof Flooring in Wallingford, CT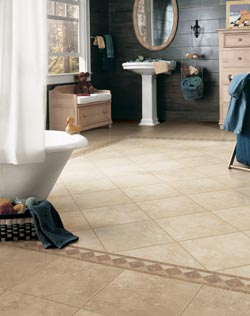 Do you love the look of carpet, stone, hardwood, or ceramic, but hate the maintenance requirements and risk of water damage? By choosing waterproof flooring in Wallingford, CT, you can enjoy the look of any flooring material without having to worry about what could happen if the sink leaks or the house floods. Our flooring showroom carries a wide variety of waterproof floor styles and also provides expert installation to ensure the longevity and quality of your new investment.

When you're ready to peruse our selection of waterproof luxury vinyl planks and other types of waterproof vinyl flooring and carpets, visit our showroom. Our showroom staff is always available to answer questions and help you choose the very best waterproof floor options for your home or business.
Choose from Stylish and Affordable Waterproof Flooring
Waterproof flooring is an ideal option for any home due to its durability and water resistance, but also its variety of styles and attractiveness. No matter what your existing décor or desired interior design scheme, our showroom is sure to carry a waterproof carpet or vinyl flooring style to suit your needs.

Vinyl flooring is capable of mimicking the appearance and even texture of many different materials. In addition to being water-resistant and easy to maintain, vinyl floors and waterproof carpet flooring are lightweight, long-lasting, and gorgeous in any room. Check out all our options for waterproof floors by leading brands including:
Tigressa
Downs H2O
Naturcor
PURstone
Spotlight Values
Enjoy Easy Maintenance with Waterproof Vinyl Flooring
Many homeowners are hesitant to purchase nice-looking floors because they believe the maintenance needs are too costly or time-consuming. If you don't have the time, energy, or supplies to keep up with the maintenance needs of hardwood, stone, or ceramic floors, waterproof vinyl flooring is an ideal choice.

Vinyl flooring is available in a variety of styles including hardwood, stone, ceramic, porcelain, and solid colors. Also, we carry a wide range of waterproof carpet flooring in many colors and textures. Our showroom associates can show you our flooring selection and help you choose the best styles for your existing décor.

Be sure to schedule waterproof flooring installation with one of our experienced and qualified professionals. We're able to ensure your flooring is properly installed so that water cannot penetrate underneath your floors and damage the subfloor. We will make sure your new investment lasts for many years.

Contact us to choose from our wide range of waterproof flooring and LVT. We're proud to serve clients in Wallingford, Connecticut, as well as the surrounding areas.