Tile Flooring in Wallingford, CT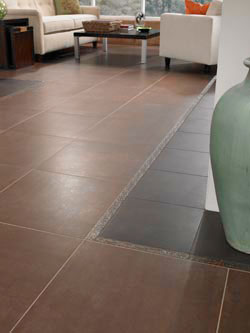 Choose tile flooring from our collections when you want new floors for your home or business that are both low maintenance and stylish. Shop for a tile floor with pleasure at our local showroom to simplify your options and work with flooring specialists who can help you find your ideal floors. Once you've made your purchase, rely on our experienced installers for tile flooring installation done according to your exact preferences.
Tile is a dynamic flooring material that opens up a world of possibilities for any living space or workspace. It comes in a variety of colors, shapes, and sizes, making it ideal for families or businesses looking to customize their new floors. Our designers can assist you in creating a unique pattern or image with your tiles—simply visit our showroom or reach out to speak with a specialist about your ideas.
Once you've decided that tiles are right for your project, determining what kind of tile you'd like to purchase is essential. Tile comes in two main varieties - traditional ceramic tile and porcelain tile. Ceramic consists of a mixture of red, white, or brown clay, while porcelain consists of mostly white clay fired at higher temperatures. This gives it a purer color, as well as a stronger surface. They are both highly resistant to moisture.
Explore the Benefits of a New Tile Floor
If your goal is to refloor your kitchen or your bathroom, you may be wondering which material is most suited to handle moisture. A new tile floor is a worthy addition to any room that gets a good deal of water and other kinds of moisture, especially from spills and frequent cleanings. It's easy to clean, and once it's been grouted, it is virtually waterproof.
Additionally, tile is one of the hardiest flooring materials available. It won't fade or wear down, even after years of use. Place it in any room that receives plenty of foot traffic - it won't buckle, even during the busiest times of the year. It resists scratching and chipping, as well; this makes tile floors popular with families concerned about their children and pets damaging their new flooring.
If you're unsure whether tile is right for your project, it's easy to weigh your options when you recruit the help of a showroom specialist. Come by our shop, or get in touch online to get the information you need about your favorite products. We're more than happy to answer any questions you may have about our stock.
Opt for Professional Tile Flooring Installation
Once you have selected the right bathroom or kitchen tiles, it's time to think about installation. Instead of gambling your home or business's condition with an amateur, enlist our experienced and skilled tile flooring installation team. We are ready to dispatch to your location with all the tools we need to lay down your new tile floors. Let us ensure your flooring lasts for years to come.
Be sure to let our team know about any special requests you have for your tile flooring. We're happy to create any patterns, shapes, or pictures. Plus, if you're not completely satisfied with our installation work, we'll return to revise or even replace your flooring at our own expense. It's just one of the ways we demonstrate our commitment to your satisfaction and comfort.
Contact our tile flooring specialists to schedule professional installation at your home or business. We proudly serve customers in Wallingford, Meriden, North Haven, Hamden, and Cheshire, Connecticut, and surrounding areas.