Pet-Friendly Flooring in Wallingford, CT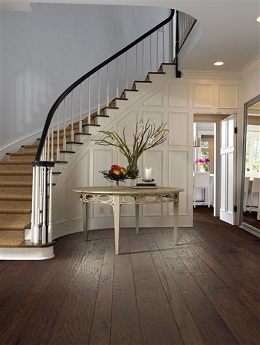 You may have one or more pets who are all part of the family. Because of this, you take the behavior of all members of your family into consideration when choosing new flooring. At Colonial Flooring America, we have lots of options you can select for pet-friendly flooring in Wallingford, CT.
At our flooring showroom, we look out for your cat or dog by making high-performance flooring available to you. Yes, we have cat and dog-friendly flooring in a number of brands, types, textures, and colors. These include everything from laminate to tile to luxury vinyl to hardwood and even carpeting.
Your Options in Flooring That's Tough Enough for Pets
You wouldn't think you could have carpeting and pets, too. However, our showroom offers a number of brands that are made with Fifi and Fido in mind. Come into our store and talk to our sales and design professionals about our stain-resistant carpet. Depending on the brand, the manufacturers may use pet-friendly technology to keep urine from soaking into the fibers or the backing keeps the liquid from soaking into the underlayment and subfloor.
The carpeting may also be treated with chemicals that repel stains. Such repellant can be applied to synthetic fibers such as nylon or polyester, or even natural materials such as wool. The chemicals are what protect the fibers from pet accidents.
This may well be one of the best types of flooring for dogs and cats. However, you have other choices, too. For instance, laminate, which is manufactured to be tough and water-resistant. That's exactly what pet owners need. Another good option is tile, which is strong and stands up to water and stains. Then, too, there's luxury vinyl tile or plank. As manufactured flooring, they are made to withstand water, as well as scratches.
Opting for Sealed Hardwood Floors
Another flooring type that works well for households with pets is hardwood. This flooring is as sturdy and durable as trees. And, when you seal the surface, you make it waterproof. That way, pet accidents, as well as spills from children, don't ruin your flooring. With sealed flooring, all you have to do is mop up the liquid.
As you can see, your house can still be beautiful even with animals. That is when you select our pet-friendly flooring. We also recommend professional installation because this has an impact on how effectively your new flooring resists moisture and stains.



Contact us today to shop for flooring that can stand up to wear and tear from your pets. We proudly serve customers in Wallingford, Meriden, North Haven, Hamden, and Cheshire, Connecticut, and surrounding areas.