Luxury Vinyl Flooring in Wallingford, CT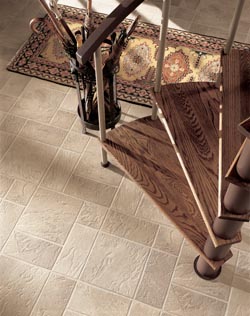 Restore excitement and a fresh look to your home with our selection of luxury vinyl flooring. When you are in the market for stylish flooring, our luxury vinyl tile provides you with a modern alternative. This resilient flooring has more give than traditional tile, and this makes a huge difference when you have to stand for hours on end.
Take the time to visit with one of our helpful sales associates, and discover how our luxury vinyl flooring installation process can enhance the beauty of your home. Vinyl flooring is easily cut into a broad array of shapes that bring out the best in any room.
With modern advancements in manufacturing and imaging, our vinyl flooring is capable of providing you the look of stone, tile, and even wood. With our luxury plank flooring, you can have the warmth and beauty of hardwood floors in places previously ill-suited for natural woods. When you visit our showroom you immediately open up a world of possibilities when it comes to the interior appeal of your home.


Stylish & Durable Luxury Vinyl Tile
Eliminate the fading and outdated flooring you have been living with for too long and treat your home to the look and feel of luxury vinyl tile. This variety of flooring helps when you have a busy family full of kids and pets on the go. Vinyl tile is easy to clean and if a tile is damaged it can be replaced without a great deal of effort.
Get the timeless look of tile flooring and enjoy easy maintenance and long-lasting value. Our vinyl flooring is created with advanced materials that retain their color and clarity for years to come. With the investment you are making in home flooring, it makes sense to choose an option that will look great even after years of use.


Resilient Flooring for an Active Lifestyle
Choose luxury vinyl when you need resilient flooring you can enjoy without any worry. This flooring is crafted from safe and durable materials that help it retain its color and clarity, even in the face of stains and moisture. Sit back and enjoy life with the family, and be free of worrying about scratches and stains on your floors. Vinyl flooring can come in tile and sheet form. It is generally one of the least expensive types of flooring and is very popular with homeowners because it is a great value.
Available in a multiple colors and design styles, vinyl tile is easy to cut and install making it a fast job so you can get back to your normal routine at home quickly. Sheet vinyl can be more difficult to install, and therefore, it should be installed by a seasoned professional for the best results.
Of course, before going with vinyl for your home project, you should carefully weigh the pros and cons to make sure you're getting exactly the kind of floor you are expecting.
Pros of Vinyl Flooring
Vinyl flooring gives a slightly softer surface than products like tile or wood, because the it is usually backed with a thin layer of felt or foam — depends on the manufacturer. The soft layer results in the floor having a bit more flexibility, which makes it more comfortable to stand on for long periods of time.
Vinyl tiles are available in a large assortment of colors and styles, with some designs even copying the look of stone or wood planks. While you maynotice the difference in close inspection, it can be hard to tell from normal distances that the floor is vinyl.
Vinyl wears well. It is very durable, with many manufacturers backing their products with warranties of up to 15 years or more. In fact, a well installed, properly maintained vinyl floor can last for over twenty years.
Vinyl flooring is very dirt and water resistant, it's one of the few flooring types that can be installed directly over a subfloor or over a previous vinyl or linoleum floor without all the hassle of doing demolition first. It's also one of the better choices for installing on a floor with lots of cracks or some slight movement and shifting.
As far as cleaning and ongoing maintenance, vinyl is hard to beat. It requires practically no maintenance after it is installed, vinyl just needs to be swept and occasionally moppedy to keep it clean and looking new.
Quick and Convenient Luxury Vinyl Flooring Installation
Every room in your home presents differing challenges when it comes to luxury vinyl flooring installation. When you partner with our team, we provide you with a qualified contractor who works hard to earn your trust. You get an original look unlike anything you have seen, and your flooring is better able to resist moisture and other issues.


Luxury Plank Flooring Brings Your Home to Life
Take advantage of our selection of luxury plank flooring when you need the warmth of hardwood in all the rooms you love. Traditional hardwood flooring has the tendency to expand and contract with changes in temperature and moisture. But with this modern advancement in flooring technology, you can have the value and appeal of hardwood in places you never imagined. It looks as good as wood, and it lasts for years without the need for constant care.



Contact us today and find the right luxury vinyl flooring for your home with a free consultation. We proudly serve customers in Wallingford, Meriden, North Haven, Hamden, and Cheshire, Connecticut, and surrounding areas.