Why Rugs and Runners?
Rugs and runners can be more than just a practical addition. They can also serve to enhance your existing floors by adding a good contrast. Depending on your type of flooring, you will want to choose a rug that compliments what is already there and also looks great on its own. Using an area rug for places such as under a dining room table will both enhance the area and save the floors from the constant moving of chairs.

Using rugs on your existing floors is a great way to add beauty to your home and to save yourself from early repairs to your existing flooring.

Get a Tight Knit - Looking for tips about rugs and runners? If you are using rugs and runners to manage high traffic areas of your home or for your living or dining space, you should look for the best quality rugs available. When using an area rug or runner in these types of places, the high traffic can often translate into snags or pulls if the knit is too loose and the quality is off.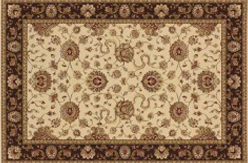 Rugs to Accent your Flooring - No matter what type of flooring you have in our home, runners and area rugs can enhance the look of your floors while preserving their beauty. In highly trafficked areas, using rugs will keep the impact on your floors to a minimum. These areas would typically end up as the cause for replacing your floors, but with strategically placed rugs, you can save yourself the future trouble.

Natural Choices - With the growing concerns for the environment, indoor air quality and the large umbers of newly diagnosed cases of chemical sensitivity, Wool is quickly becoming the consumer's flooring choice. Pure wool has no dyes, or stain protections that are commonly used in manufacturing of carpeting.

Custom Rugs and Runners - Area rugs and runners can also be made from just about any carpet. The carpet can be cut, bound or serged to a specific size. This is a great advantage for someone who is looking for a specific size or color that is not available in a pre-made rug and runner.

Pure Wool Carpets - Ideally for those suffering from chemical sensitivity as well as those that are concerned about the environment. Good manufacturers of wool carpets design products that meet the demands of these consumers yet, sacrifice nothing in the way of styling, comfort, and durability. The process begins using pure wool. Dyes, pesticides, or stain protections that are commonly used by the other carpet manufacturers. The primary backing is a combination hemp and cotton. Hemp is known for its durability, strength, and resistance to mold and mildew. The ideal wool carpet maintains all the criteria of those looking for the purest, least toxic floor covering available.