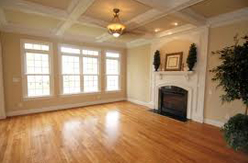 Original hardwood floors are a beautiful feature in a home. Not surprisingly, homeowners look to wood refinishing as a good alternative to ripping out the floor or covering it up with carpeting, laminate or other flooring materials. Hardwood floors can be one of the most valuable resale assets of your entire house. However, they become worn over time. Refinishing hardwood floors take the worn down, stained (if applicable), and scuffed up surface and breathes new life into it.
Purpose of Refinishing
If your floor is showing considerable wear, or perhaps you wish to change the color or completed renovations in your home, then the best option will be sanding the floors to the bare wood. One of the real advantages of wood floors is that they can be refinished several times before they need to be replaced.

The refinishing process begins with sanding the floor with heavy-duty commercial sanders down to the bare wood. This process can create a good amount of dust. Once the sanding is done, the floor is examined for bad any bad strips/planks. If possible, a repair would take place. If a stain has been selected, it would be applied at that time. The wood is then sealed in preparation for a water-based or oil-based finish application. To provide a deep and rich finish a minimum of 3 coats are applied.

Water-Based Finish vs. Oil-Based Finish
Waterborne finishes have a low VOC (Volatile Organic Component) because they use water instead of solvents to carry urethane molecules. They dry very quickly (approximately 2 to 3 hours), with a light, clean odor. There is less home disruption since you will be able to use the refinished areas sooner. Oil-based finishes have a high VOC content, take much longer to dry (often 8 hours or more), and leave a noticeable odor than can linger for several days. Water-based finishes are just slightly higher in cost than oil-based finish products.

Sheen – Color Options
People have different preferences when it comes to the sheen of their hardwood floors. There are three finish appearance options: satin, semi-gloss, or high-gloss. Some people prefer a high-gloss finish, while others like a soft satin look. Some finishes dry very clear; others add a rich warm glow to the floor. If your wood refinishing project includes staining the floor, there is a variety of colors from which you can choose.

Wood Floor Care
Preventive maintenance after refinishing your floors is the key to a beautiful, long-lasting wood floor. Dust and debris tracked over the floor can scratch and dull the finish. Place door mats or throw rugs at all entrances. Use fabric-faced glides on furniture legs to prevent scratching the floor and clean them occasionally. Clean floors at least once a week with a vacuum or dust mop. Do not use dusting products because they can dull the finish. For routine clean-ups, use a damp mop with a polyurethane or similar surface finish. Caution: Never apply wax to a urethane finish; remember, they do not mix.