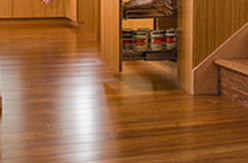 Bamboo is one of nature's most eco-friendly resources. Natural Bamboo floors are only harvested from managed plantations of forests in the tropical regions of China and Southeast Asia. Bamboo is only suitable for flooring once it reaches 5 to 6 years of maturity. Natural Bamboo offers the widest selection of bamboo flooring options and provides the perfect balance between environmental responsibility, trendsetting style, and superior durability.

Sustainable and Renewable Bamboo
Bamboo can be harvested many times over its life and renew itself in a relatively short period of time compared to traditional hardwood flooring materials such as oak and maple, which take 50+ years to mature and can only be harvested once. When a single plant stand of bamboo is harvested, multiple plant stands regenerate in its place. Harvesting bamboo actually encourages the spread and growth of new bamboo plants. Bamboo removes CO2 from the atmosphere and generates up to 35% more oxygen than an equivalent tree.

Green Building with Natural Bamboo
Natural Bamboo floors contribute to satisfying LEED (Leadership in Energy and Environmental Design) credits for Rapidly Renewable Resources and Low Emitting Materials under the LEED Rating System. The LEED Green Building Rating System is the nationally accepted benchmark for the design, construction, and operation of high performance green buildings as administered by the United States Green Building Council.

Special Considerations When Selecting Bamboo Flooring
Natural bamboo flooring features the traditional horizontal and vertical bamboo floors in solid and engineered construction with widths up to 7 ½" inches. Solid stained and hand-scraped bamboo highlight trendsetting Natural Bamboo assortments for your home or office.