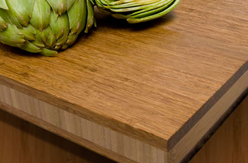 Contrary to popular belief, bamboo is actually a strong building material. It is considered to be at least as strong as most hardwoods, and stronger than many others. You can expect your bamboo countertops to last for many years. Bamboo is eco-friendly and recyclable.

Bamboo countertops can be a great choice for anyone who is interested in replacing their current counters with a new, eco-friendly option. There are lots of great reasons to consider bamboo.
What makes bamboo countertops "green"?
Bamboo has emerged in recent years as a great green option in many different applications. Currently, bamboo is being used for flooring, counters, cabinets, furniture, clothing, and bedding.

It's green because it is extremely renewable. Bamboo grows very, very rapidly – some strands grow up to a foot a day! When you compare that with any kind of tree, you realize that is extremely fast. Because bamboo grows so quickly, the idea is that using it for building applications is more eco-friendly, than using wood.

Another type of bamboo countertops is typically called end-grain bamboo. Just like the planks, they are glued together. However, instead of creating long planks, the companies that make countertops out of end-grain bamboo do so by taking rectangular pieces of the end-grain. They are glued together and a dealer is added.

Cost Comparison
When compared with popular choices like granite and quartz, bamboo countertops are downright more economical. Because specialized cuts need to be made, it is a job that is usually best to the professionals.

Caring for Bamboo Countertops
Cleaning these green counters is quite simple. You can keep them clean with warm water and mild soap. Because they have a finish applied, it is important not to place hot items directly on your bamboo countertops.

Even though bamboo is a strong material, it is also important not to cut directly on the counter. Both the counter and the finish could be damaged with a knife or sharp objects.