Ceramic Tile Flooring in Wallingford, CT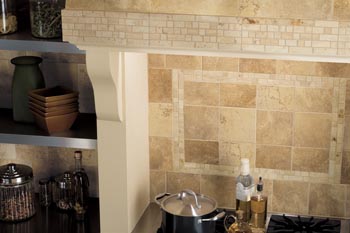 New flooring is one of the most efficient and affordable ways to improve one or more rooms in your home. You will truly make a style statement if you choose ceramic tile for your decorating or remodeling job. This type of tile flooring is a classic that has been around for centuries. Because it is oven-fired and typically covered with glaze, it is durable, too. It repels water and stain-causing liquids and solids, which makes it ideal for use in bathrooms and kitchens.
Another reason why you see it in so many kitchens and bathrooms is because it is low maintenance. With the use of a mild cleaning solution, water, and a sponge mop, your ceramic tile flooring will retain its appearance. Additionally, it gives a room a richer look and feel, and adds value to your home. Make us your choice for the most stylish and durable ceramic tile flooring available in the area.
Create a Distinctive Ceramic Tile Floor
Whether you want a single ceramic tile floor or several throughout your home, we provide you with the materials to be creative. We have solid tiles if you're someone who prefers a cleaner, more conservative look. The great thing about solid ceramic tiles is that they are versatile. As such, you can use them along with different designs and patterns to create a look that is one of a kind.
Do you prefer ceramic tile but you want a floor that resembles other types of materials? Manufacturers of today's ceramic tile flooring can make it look like just about any type of style and texture. Our inventory includes ceramic tile that closely mimics natural stone and hardwood. You'll have a hard time telling the difference between it and the real thing!
Ceramic Tile Flooring Installation Done to Perfection
Our service to you goes beyond offering you high-quality ceramic tile floors at competitive prices. To make sure that your flooring complements your home's interior, we perform professional ceramic tile flooring installation. We have the materials and tools to do the job properly.
Installing ceramic tiles takes time and attention to detail. We work diligently to make sure that each piece of tile is properly placed and secured with grout or mortar. This is how we create the ceramic tile floor that you desire. When our work is completed, your flooring has the flawless look of a professional installation. You don't have to stick with tile that's cut into squares, either. We can cut your tile into different shapes before we install it to meet your specific requests. Protect your investment with our certified installers as you modernize your home with the latest in ceramic tiles.
Complementary Ceramic Tile Options
Think beyond flooring to give your decorating or remodeling project that completely finished look. In addition to its obvious use for floors, ceramic tile is also a stylish option for backsplashes, countertops, and walls. You can use it to complement your existing décor in a bathroom, kitchen, mud room, or anywhere else tile is used.
Its versatility also gives you the creative freedom to experiment with various colors, designs, and patterns. You can use ceramic tile to create custom motifs that reflect your individual taste in decorating. Stop by our showroom soon to shop for the most beautiful, stylish, and durable ceramic tile available.
Contact us today and discover what our extensive selection of new flooring options can do for your home with a free consultation. We proudly serve customers in Wallingford, Meriden, North Haven, Hamden, and Cheshire, Connecticut, and surrounding areas.